Never leave home without applying sunscreen!
Singapore is undoubtedly favoured for our sunshine as it is perfect for getting active outdoors, but the sun's rays can badly damage your skin, especially since you're exposed to them in more ways than you'd expect each day.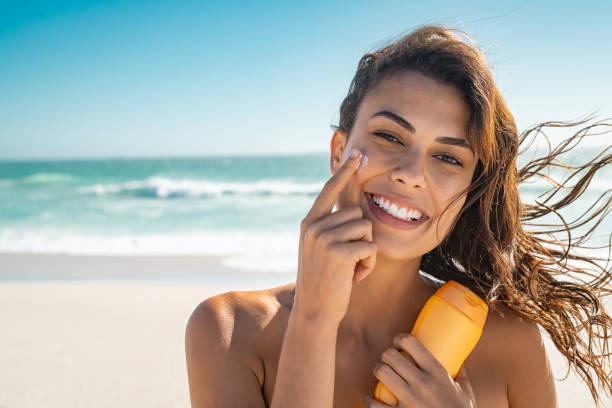 Even on Cloudy Days, up to 80 percent of the sun's rays can pass through clouds, so if you assume it's okay to forgo protection on an overcast day, think again!
Harmful UV (ultraviolet) rays penetrate through clouds, and can even reach you through car and building windows. While the damage is milder than that of direct sunlight, it still speeds up the skin's aging process.
Amidst all the supplements and fancy serums, don't forget the most essential protection for your skin: sunscreen!
How sun exposure damages your skin
Without protection, sun exposure can result in long-term damage like wrinkles, sagging skin, age spots, roughness, brown pigmentation, and darkening.
More serious health complications include hypersensitivity reactions to sunlight and skin cancer.
How do I choose the right sunscreen for my skin?
It's important to get a broad-spectrum sunscreen, which will protect you from both UVA and UVB rays. Beyond that, choosing whether to get a physical or chemical sunscreen boils down to your skin preference.
Here we have comparison of a physical and chemical sunscreen so you can get an idea of which type is more suitable for you skin! 
Chemical Sunscreen
Kiehl's Ultra Light Daily UV Defense Aqua Gel SPF 50 Pa++++
The new water-light sunscreen is equipped with advanced anti-pollution technology, and provides high protection against UVA and UVB rays. The new refreshing and water-light texture provides instant cooling effect with 24-hour hydration. 
It also helps minimize the appearance of pores and protect against early signs of aging. Dermatologist-tested for safety, it is also paraben-free, fragrance-free, oil-free and colour-free.
Lancome UV Expert Youth Shield Aqua Gel SPF50/PA++++
Protect your skin from UV rays & pollution with UV Expert Aqua Gel SPF50 PA++++ sunscreen. 
A hydrating multi-protection cream that helps your skin fight against daily aggressors such as UV rays and urban pollution. It's unique texture spreads easily but dries to a matte finish.
ISDIN Fotoprotector Fusion Water Pediatrics SPF 50+
ISDIN Ultralight daily sunscreen specially formulated for the skin of children and babies from 6 months that does not sting eyes. It provides immediate absorption and intense hydration with no residue.
Aqueous phase facial sunscreen that provides intense hydration, immediate absorption and guarantees high protection SPF 50 against UVB and UVA radiation.
Anessa Perfect UV Sunscreen Skincare Milk SPF 50+
Anessa Strongest UV milk fits smoothly and comfortably to the skin.
It adopted the technology to enhance UV protection viel with heat, sweat or water! Its 50% skincare ingredients give a pleasant non-sticky feel.
It can also be used as makeup primer and comes off easily with soap.
How do I properly apply sunscreen?
Apply your sunscreen 15-20 minutes before heading out. Especially for chemical sunscreens which will take time to absord into your skin before they can work.
However, always ensure that your skin is dry before applying it generously over all exposed areas of your body. Not forgetting a sufficient amount of at least the size of a 50-cent coin on your face and neck.
The process takes no longer than 5 minutes, so dont skip the process and be sure to apply it before you leave your home!
Recommended products:
Read more
✕