Get your skincare routine ready with Kiehl's!
Beautiful skin starts at the base. When it comes to creating an effective skincare routine, the most important step is to firstly determine your personal skin type.
With the types of beauty products everywhere, it can be tempting to buy into every brand that promises to help you reach your skincare goals. However, in the quest to perfect your complexion, a one-size-fits-all approach simply won't work. This is where Kiehl's personalised skincare routines and targeted products provide a solution. 
Your skincare routine shouldn't be too complicated.
The reality is that the basis of a great skincare routine lies in its simplicity.  
At Kiehl's, the key focus is formulating products with the highest quality natural and scientifically advanced ingredients. The brand's apothecary origins mean that they have blended pharmaceutical, herbal and dermatologist expertise spanning almost 170 years to produce quality products that are adapted to your specific skin type.
Kiehl's believes in providing simple yet effective solutions to restore and strengthen the skin barrier, whilst treating your unique skincare concerns. Whether you're looking to banish blemishes, combat dryness or fight fine-lines and ageing, Kiehl's have the perfectly personalised skincare routine for you. 
Discover your dream Kiehl's routine below! 
Step one:

 
Double cleanse with the Rare Earth Deep Pore Cleansing Masque. Bursting with essential minerals, Aloe Barbadensis and Amazonian White Clay. This mask absorbs excess oils as well as gently drawing out impurities while minimizing the appearance of enlarged pores. After cleansing, apply a thin layer to damp skin and leave to work for ten minutes. Rinse off with a warm, wet towel to reveal your cleansed, hydrated and mattified complexion.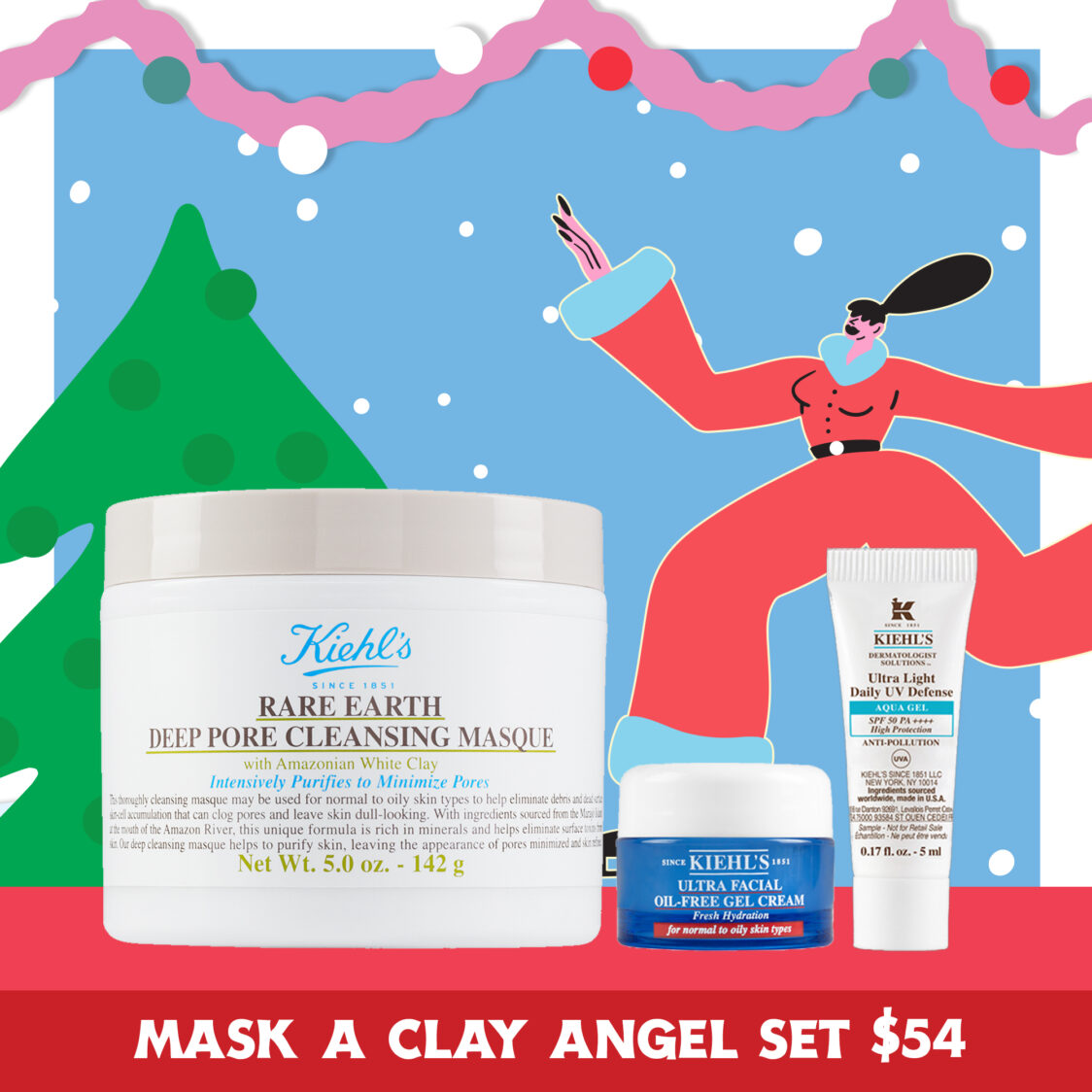 Shop now at: Rare Earth Deep Pore Cleansing Masque.
Step two:
Cleanse with the Calendula Deep Cleansing Foaming Face Wash. Enriched with Calendula extract, this foamy formula leaves skin feeling replenished and smooth, gently rinsing away dirt, oil and makeup without stripping the skin. This effective toner is formulated with select herbal extracts to gently cleanse and soothe normal to oily skin types without the use of alcohol or harsh synthetic drying agents. Kiehl's Calendula Herbal-Extract Toner may be used to soothe and improve problem areas.
Shop now at: Kiehl's Calendula Herbal-Extract Toner
Step three:

 
Apply your serum with Kiehl's Clearly Corrective Dark Spot Solution. It is a fast-acting serum that evens skin tone and diminishes dark spots to impart overall radiance and luminosity to the skin.

With continued daily usage, Clearly Corrective helps to prevent the formation of future dark spots and other skin discolorations.
Kiehl's dark spot corrector has been tested on all ethnicities and is suitable for all skin types, including sensitive skin.

Shop now at: Kiehl's Clearly Corrective Dark Spot Solution
Step four:

 
Moisturise with the Kiehl's Ultra Facial Oil-Free Gel Cream. It is a non-oily, quickly absorbed hydrator that visibly reduces the appearance of oil and leaves skin looking and feeling more balanced.

The oil-free gel cream works synergistically with skin's natural lipids to visibly reduce excess oil on skin's surface. It is non-greasy, and retains essential moisture in skin for a healthier, re-balanced skin barrier and a smoother, fresher appearance.
Shop now at: Kiehl's Ultra Facial Oil-Free Gel Cream.
Step five:
Moisturize your lips with Kiehl's Lip Balm #1 to provide an occlusive layer on the lip surface to seal moisture in lips and protect them from external exposure. 
Kiehl's moisturizing lip balm nourishes and soothes dry lips. Smooth on this balm to hydrate lips from dryness. A Kiehl's classic since the 1960s!
Shop now at: Kiehl's Lip Balm #1

Discover the full collections of Kiehl's at Novela today! 


Recommended products:
Read more
✕